10.11.2023.
Armament and Defense Equipment Exhibition "Defense & Security 2023", Bangkok, Kingdom of Thailand
The opening ceremony of armament and defense equipment "Defense & Security 2023" was held on 06th November 2023 in Bangkok, Kingdom of Thailand.
Exhibiting at what is considered one of the leading defense events in the Asian region, were more than 500 companies from over 50 countries worldwide, together with 30 national pavilions, one of the prominent ones being the pavilion of our country.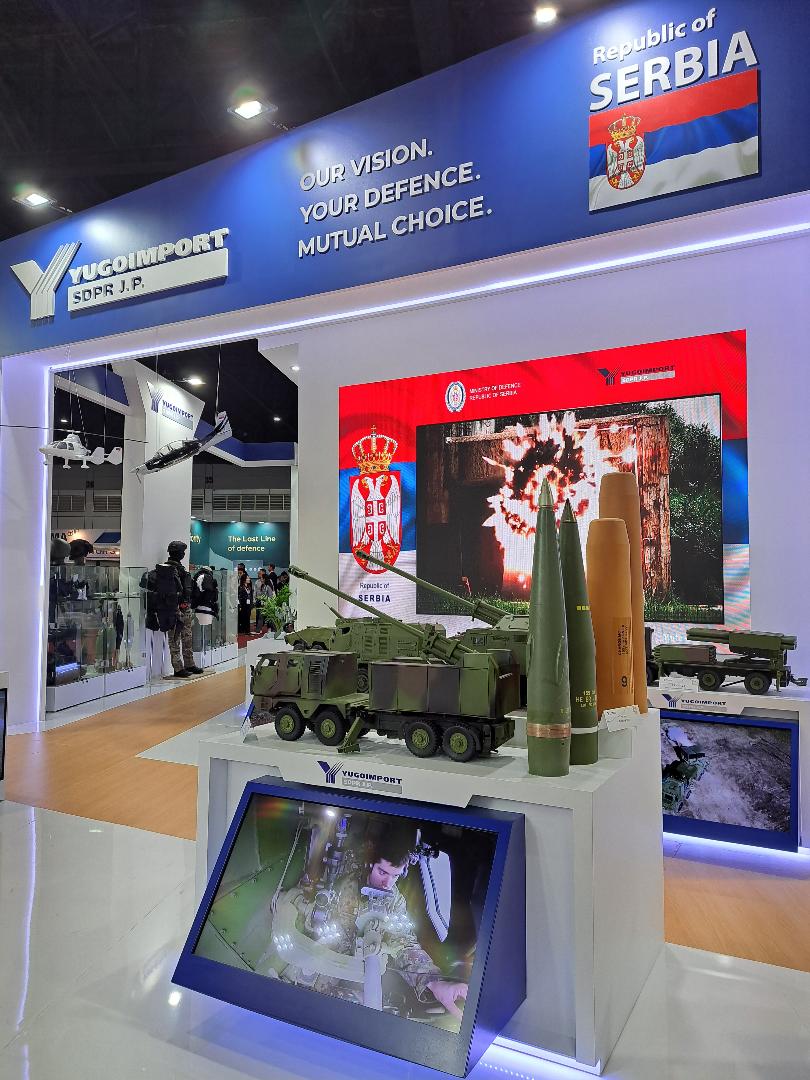 Yugoimport-SDPR
The exhibition stand of Yugoimport-SDPR, acting as the integrator of the Serbian defense industry, was very well positioned. The weapons and facilities exhibited there were produced and developed by its own sectors, but also by other companies within the Serbian defense industry. 
The product range of Yugoimport-SDPR was shown by use of the armament exhibits and the mockups of complex combat systems, multimedia presentations, posters and promotional videos.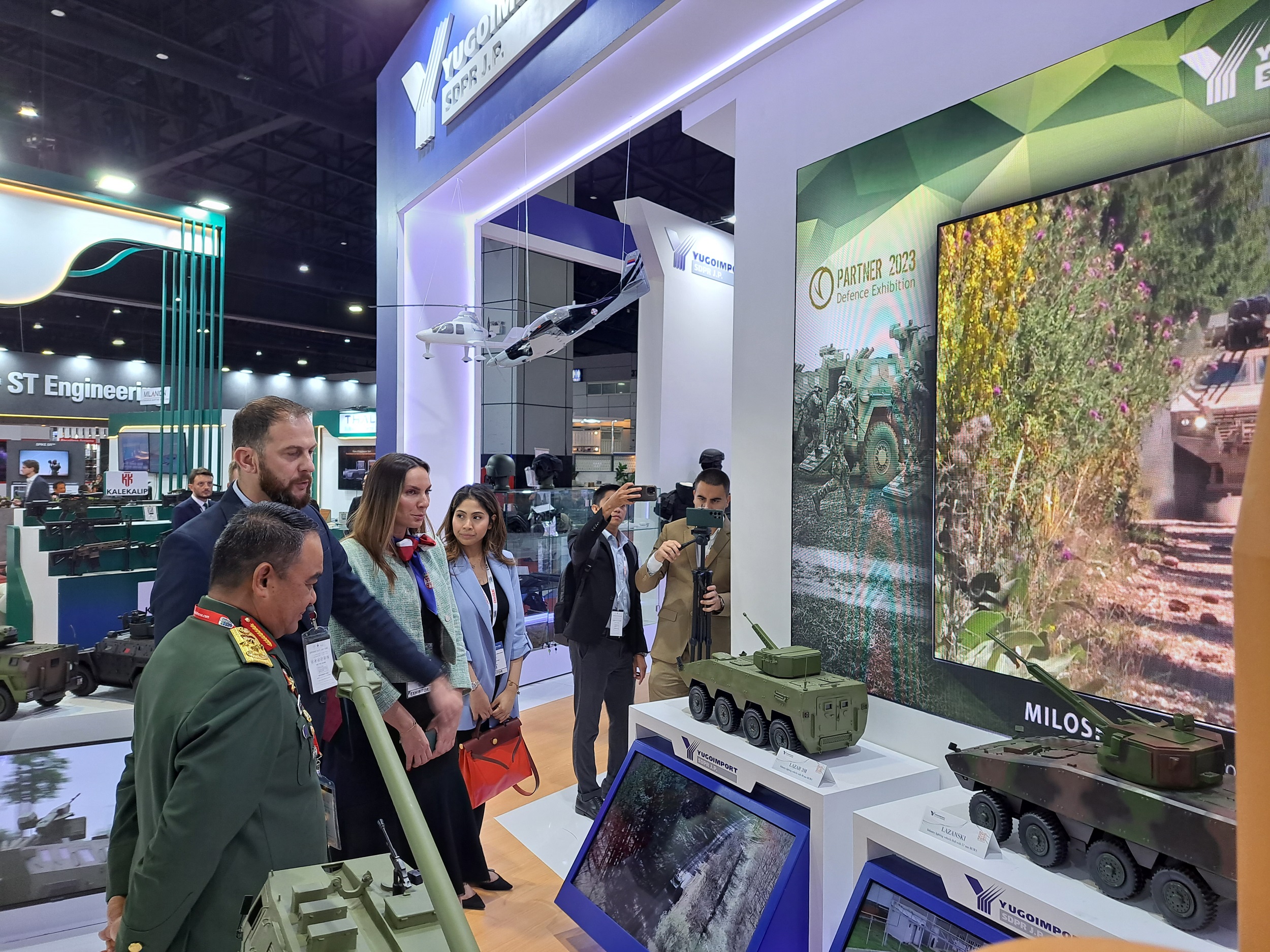 Yugoimport-SDPR
Special attention in presenting the exhibits was given to the multi-purpose armored vehicles Lazar 3, Lazar 3M, Lazanski, combat armored vehicle Miloš, Miloš 2, self-propelled howitzer 155 mm Nora B52 M21 and Nora NG, multi-tube modular self-propelled 122/262 mm rocket launcher Tamnava, Lasta aircraft and gyro-copters.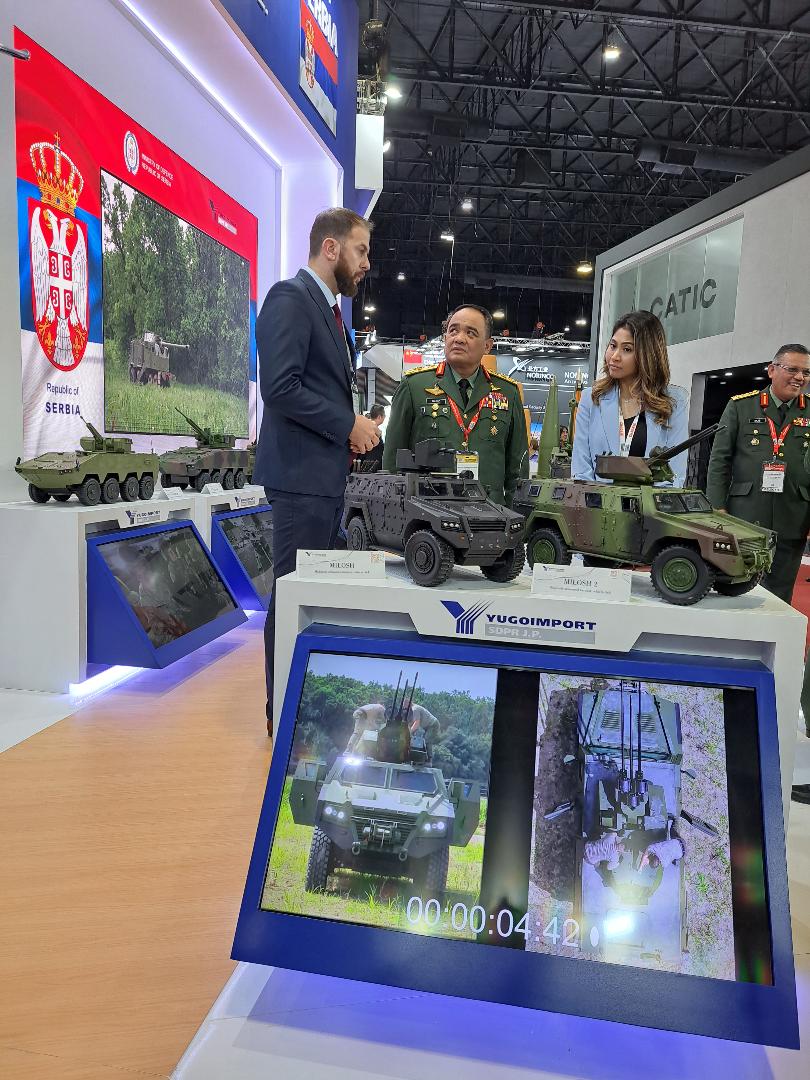 Yugoimport-SDPR
Presented munitions included rockets Grad, Nova, and Munja, mortar ammunition cal. 60-120 mm, medium caliber ammunition 20-57 mm, fuzes, artillery ammunition cal. 105-155 mm, artillery rockets cal. 107 mm and 122 mm, protective equipment, sniper rifles cal. 7,62 mm and 12,7 mm, single-shot and six-shot (revolver) grenade launchers, automatic rifles 5,56 mm and 7,62 mm, modular rifle, light AT missile & launching system POS 145, man-portable AD system RBR 120, Maljutka missile, etc.
The exhibit stand of Yugoimport-SDPR was visited by numerous commercial visitors, as well as by a number of official foreign delegations, among others the delegations of Malaysia, Oman, Laos, UAE, Thailand etc.